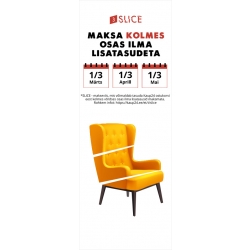 Dear Client,

We are pleased to announce that the new Slice payment method will be available as of October 31, in partnership with the Payment Center.
The payment method offered by Inbank allows you to pay for purchases of EUR 75 to 800 in three equal installments, free of interest. The new payment method will help increase your purchases, allowing you to pay for larger amounts in installments.
The customer only provides his contact details and identifies himself electronically. Thanks to a thoughtful user experience, the customer does not perceive being away from the merchant's environment. Paying with Slice is as fast as using other popular payment methods.
You can read more about Slice here and here!

The buyer selects the item in the shop, adds it to the shopping cart and selects SlicePay as the payment method.
The Purchaser shall complete the hire purchase application and authorize the transfer of its details to the SlicePay affiliate hire purchase providers in the region selected by the Purchaser.
Reports are usually sent within a few minutes and the Buyer can choose the most suitable offer from his / her offer by reading the terms and conditions of the contract and the parameters important to him / her.
The contract award process may vary from country to country. In countries where digital signatures are available, the Buyer has the option to digitally sign the contract. In countries where digital signing is not possible, the Buyer confirms its acceptance of the terms of the Agreement and declares its intention to enter into the Agreement by transferring it from their personal bank account to SlicePay's bank account. In addition, the Buyer will upload a copy of his or her ID.
Once the Buyer has been identified and the contract has been entered into, SlicePay will distribute the contracts to the parties and the Merchant may issue the goods to the Buyer.

Wishing you safe shopping!
HELDRON OÜ
www.heldron.com