Trampoline 8FT 252 cm with safety net and ladder - R-Sport
SKU:
HE8FT
Unit:
tk
Qty:
Out of Stock
Delivery time:
10-15
Trampoline 8FT 252 cm CM WITH LADDER AND SAFETY NET - R-SPORT
Color: Blue
Set includes:
- Trampoline
- lockable external safety net
- metal posts for securing the safety net with a cushioning cover
- comes with a two-stage metal ladder (66x31cm)
- 3 galvanized double U-shaped legs
- Spring cover (filled with soft foam - blue)
- galvanized springs
Trampoline at a safe height (approx. 55 cm)
Technical specifications:
Width (with posts): 252 cm - 8FT
Trampoline height: 55 cm
Net height: 180 cm,
Number of legs: 3 double (U-shaped)
Number of springs: 42 pcs (galvanized)
External network
Two-step ladder (66x31 cm)
Galvanized frames
Weight limit: 130 kg

Package weight: about 36 kg
Read the instructions carefully before use.
The use of a trampoline requires careful supervision by an adult.
the toy has a CE certificate of conformity, it meets all European and EN standards.
The trampoline should be used barefoot (without shoes).
Place the trampoline on a flat surface. It is recommended to anchor and immobilize it to protect it from the wind.

Simple instructions are included.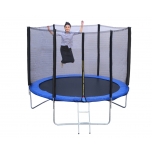 SKU:
HE12FT ,
Qty:
Out of Stock
,
Delivery time:
10-15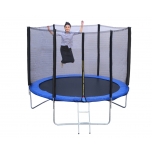 SKU:
HE10FT ,
Qty:
Out of Stock
,
Delivery time:
10-15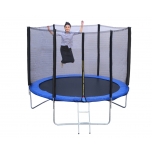 SKU:
HE6FT ,
Qty:
Out of Stock
,
Delivery time:
10-15