Electric car convertible VOLVO XC90 - leather interior, soft EVA wheels (red)
SKU:
ELEVOLVOXC90REVA
Unit:
tk
Qty:
Out of Stock
Delivery time:
10-15 tööpäeva
Children's electric car Volvo XC90, soft wheels, soft seat, remote control
* Licensed by Volvo
The vehicle is suitable for outdoor use (should not be left in direct rain), but it can also be used in larger rooms, on the terrace or in the living room. Ideal for children from the age of 2-3 years. With soft wheels!
Model: Volvo XC90
Color: red-lacquered

TECHNICAL SPECIFICATIONS
Motor: 2x45W
Battery: 12V7Ah
Gears: 2 gears (forward / reverse)
Dimensions: 130cm x 75cm x 70cm
Max. Speed: 3-6km / h
Weight: 31kg
Max. Load: 40kg
Charging time: 8h
Duration of use: up to 1 hour
EQUIPMENT
Seat belts: ✓
Doors that open: ✓
Key: ✓
Seat: leather seat
Wheels: Soft EVA foam wheels
Remote control: 2.4 G, 3 speed mode selection (slow, normal, fast)
Lights: dashboard LEDs, headlights, tail lights
Sound: USB, SD card, steering wheel, melody buttons on steering wheel, MP3 AUX
NB! For an additional fee, we also offer our assembly of the car. If you want our assembly, you have to pick up the car yourself. THE ASSEMBLED CAR WILL NOT BE SHIPPED BY COURIER! Assembly takes place with at least 1 working day notice and on the basis of advance payment! Assembly costs 25 euros (incl. VAT) which is paid on receipt of the car on site (our assembly must be noted in the comments when ordering!)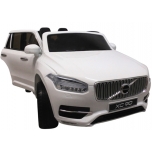 SKU:
ELEVOLVOXC90WEVA ,
Qty:
Out of Stock
,
Delivery time:
10-15 tööpäeva